Madrid/Brussels – 11th June 2014
IMPALA Album of the Year winner Guadalupe Plata sweeps the board at Spanish independent music awards by UFI
Last night in Madrid at UFI's Independent Music Awards, Guadalupe Plata won four awards: "Best Artist", "Album of the Year", "Best Live", and "Best Photography". They also played at the ceremony after receiving the European Album of the Year Award from IMPALA's Executive Chair Helen Smith. Guadalupe Plata received the award for their eponym album, succeeding "Coexist" by The xx and "21" by Adele (official announcement here).
 
UFI's awards cover thirteen different categories (listed here) and provide an exceptional platform for emerging, local and international artists.
 
Guadalupe Plata is signed to Madrid based independent label Everlasting Records. Independent labels make an exceptional contribution in Europe, accounting for 80% of all new releases and 80% of the sector's jobs. Copyright gives artists a vital trading tool to exploit with their partners such as record labels who provide investment and support. Independents are proud to respect artists' vision of their own career and their artistic freedom.
 
Helen Smith said: "Guadalupe Plata's album was the deserving winner of our award and seeing them live is fantastic. We urge all policymakers to remember the huge wealth of talent and diversity we have in Europe, which cannot be delocalised. Lets make sure artists like Guadalupe Plata remain a success story."
 
Mark Kitcatt, Everlasting Records added: "Just go and see these guys. They generate a rare kind of excitement and intensity which demands engagement. Like John Peel said about The Fall, they are always different and always the same."
 
Pedro de Dios, singer said: "This is a fantastic day for Guadalupe Plata and for me personally - better than my communion."
 
Drummer Carlos Jimena added: "Wow. We beat Nick Cave and I am a big fan so this is an honour."
 
Guadalupe Plata's manager Toni Anguiano said: "With Everlasting as our label we can continue to work as before. They have complete respect for the band's artistic integrity."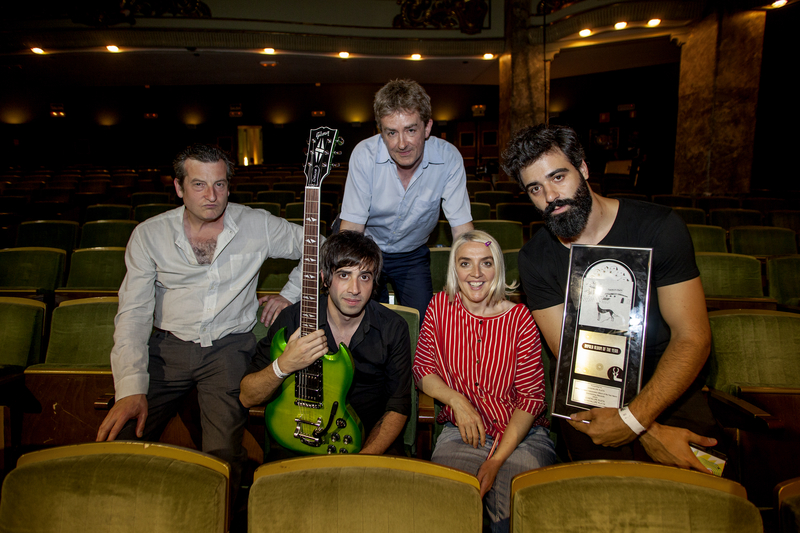 More about Guadalupe Plata
Guadalupe Plata takes its name from the Virgin patron of their town, Úbeda in Jaén, Andalucía. The album was recorded in three days at Ryan Anderson's studio in Austin with the help of Walter Daniels (The Oblivians, The Revelators) on harmonica, and mixed by Mike Mariconda (Devil Dogs, Raunch Hands) in Málaga. The album can be heard on Spotify: Guadalupe Plata

The band plays 100 live gigs a year in venues as unexpected as brothels and working men's clubs. With a wealth of documentary evidence about their concerts on the web, the band explains their performances in flamenco terms of "duende" or "hechizo". Some compare them to performances that marked them in their youth by the likes of Captain Beefheart, Canned Heat, The Fall or Pata Negra.
Guadalupe Plata are currently putting together a Northern European tour later in the year. For the time being if you want to see them live, their dates in Spain are available here.
http://guadalupeplata.com
More about Everlasting Records
Since 1990 Everlasting Records has released some of the most important artists of the Spanish independent scene such as Los Punsetes, Nudozurdo, Lagartija Nick, Corcobado, Julio De La Rosa, Orlando, La Débil, A Room With A View, El Hombre Burbuja or Remate among others.  Since 2007 Everlasting Records is also responsible for representing and booking of most of the artists in their catalog.
http://www.everlastingrecords.com
More about IMPALA's Independent Album of the Year Award
The Spotify playlist of all albums nominated this year is at: IMPALA Album of the Year Award

The "European Independent Album of The Year" award was launched in 2011, together with the annual "Outstanding Contribution to European Music" award, to mark the 10th anniversary of IMPALA. Sometimes described as the 'European Mercury Music Prize', this award showcases the breadth and diversity of independent talent across Europe. The winner is selected on the basis of completely open criteria from a shortlist compiling national and non-national album nominations from territories across Europe put forward for their musical, artistic or other exceptional quality.

Nominated albums were required to have been released on a European independent label between January and December 2013. Previous winners of the Award include Efterklang, Adele and The xx.

About IMPALA
IMPALA was established in April 2000 to represent independent music companies. 99% of Europe's music companies are SMEs. Known as the "independents", they are world leaders in terms of innovation and discovering new music and artists - they produce more than 80% of all new releases. SME's also produce 80% of Europe's jobs. IMPALA has its own award schemes to help promote cultural diversity and new talent and highlight the artistic contribution of independent music. IMPALA award winning artists include Armin van Buuren, The xx, Caro Emerald, Adele, M83, Mogwai, Vitalic, Soap & Skin, Royksopp and Andrea Bocelli.