Brussels, 9th May 2016,
With over a hundred registrations or award upgrades totalling just under 10 million units, IMPALA's latest Sales Awards is one of the biggest ever and includes artists from across Europe like Caro Emerald (The Netherlands), Christine and The Queens (France), SSIO (Germany), Oscar and the Wolf (Belgium), Jamie XX (United Kingdom), Els Pets (Spain), Raubtier (Sweden) etc.
 

Since the last announcement Arctic Monkeys' album "AM" doubled its sales and wins a Quadruple Platinum Award. DJ Snake receives a Double Platinum Award for his collaboration with the American DJ/Producer Diplo on the hit "Lean On" while Platinum Awards were also attributed to the Dutch singer Caro Emerald and to the German Punk band NoRMAhl.
 
Some of the nominees of the IMPALA European Album of the Year are again part of the best sellers in Europe. Christine and the Queens reaches Platinum with her album "Chaleur Humaine". The British Grime scene is represented by JME who receives a Double Silver Award for his single "Man Don't Care" featuring Giggs and a Silver Award for his third album "Integrity>". The Belgian rock band Balthazar also confirms its success with the Silver Award rewarding its last album "Thin Walls". Two other Belgian artists achieve sales awards: Selah Sue wins a Gold Award with "Reason" and Oscar and the Wolf's "Entity" attains Double Silver.
The Swedish label, Despotz Records, who is selected for the FIVEUNDERFIFTEEN campaign, is also rewarded with a Silver Award for "Världsherravälde" by the Swedish metal band Raubtier. On the other side of Europe, Discmedi, the Catalan label clocked up the most awards including for local band Els Pets (6 Double Silver Awards and 1 Gold Award), Spanish Celtic band Milladoiro (4 Silver Awards) and Brazilian singer Vinicius de Moraes with "La Fusa", Diamond Award.
 
IMPALA Executive Chair Helen Smith commented: "This is an impressive list of awards. It's great to see sales success for the Album of the Year nominees, as well as labels featured in the Young Label Spotlight which just started last month."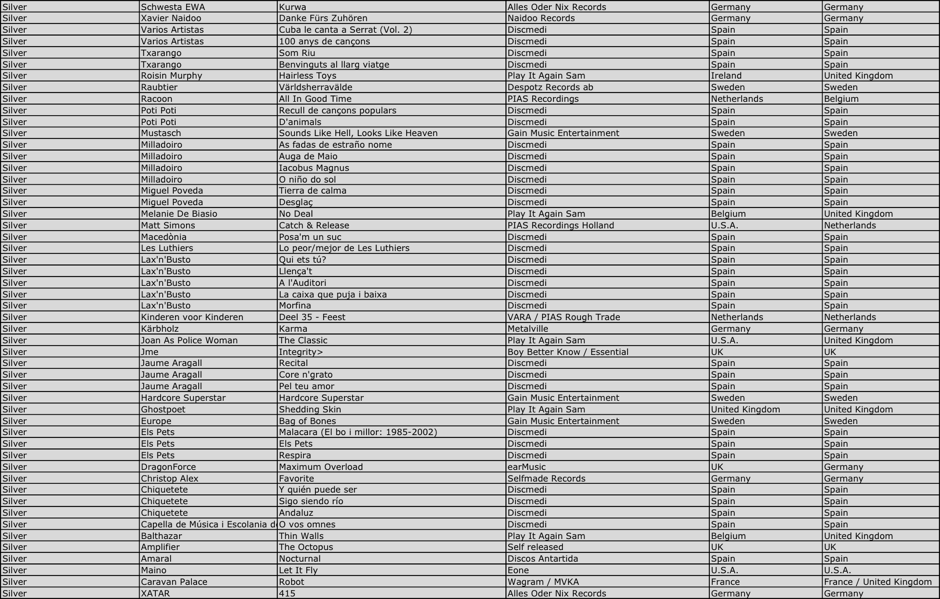 About IMPALA
IMPALA represents independent music companies and associations across Europe. Its mission is to grow the independent sector. To celebrate IMPALA's 15th anniversary, various initiatives are taking place across Europe under the "IMPALA 15" banner, including special editions of the IMPALA awards and events at industry gatherings such as Amsterdam Dance Event, Eurosonic Noorderslag, Tallinn Music Week, Westway Lab, Classical:Next, Primavera, Midem, Reeperbahn etc. IMPALA's latest initiative is the FIVEUNDERFIFTEEN campaign, a new monthly feature to put the spotlight on young independent music companies across Europe.
IMPALA's milestones illustrate what independents have achieved in 15 years of collective action at European level.
More information: www.impalamusic.org / Twitter / Facebook
 
 
About the Awards
 
The IMPALA Sales Awards are the only pan-European awards devoted to independent artists. They are the first awards to recognise that success on a pan-European basis needs to be acknowledged on different levels. They celebrate the fact that achievement and success begins well before 1 million (the only pan-European sales level officially recognised before IMPALA launched its own scheme).
 
The IMPALA Sales Awards are an extra tool for independents and their artists to market themselves internationally. IMPALA's on-line certification system is available at www.impalamusic.org where framed awards can also be ordered.
 
The awards are part of IMPALA's wider strategy to create new opportunities to promote independent music, real entrepreneurship and cultural diversity in the face of increasing concentration.
 
IMPALA also has two other awards: the European Independent Album of the Year Award and the Outstanding Contribution Award, which are announced annually.