London/Brussels, 27th March 2013
Charles Caldas, CEO of MERLIN (www.merlinnetwork.org) is the latest winner of the IMPALA Outstanding Contribution Award. He joins prestigious recipients such as Martin Mills and Mario Pacheco on the winners' list of IMPALA's annual award, which recognises the unrivaled efforts of an individual or organisation to promote and develop European independent music and the sector's diversity.
MERLIN, the very first rights body to focus purely on the interests of the global independent music sector, will celebrate its fifth year of unparalleled success in 2013.
Caldas' successful and dedicated work has turned the organisation into the virtual fourth major in the digital space. Its members number over 14,000 independent record labels and distributors in 34 countries, whose repertoire collectively commands a 10% share of the global music market. 
Merlin brings a massive global licensing efficiency to digital music services seeking to offer their users a truly comprehensive offering.
Deals negotiated with the likes of Spotify, YouTube, Google Play, Rdio and Deezer have ensured that not only do the users of these services enjoy the benefit of immediate global access to some of the world's most important artists and labels, but also that Merlin's members participate in these new digital revenue streams on terms that properly recognize that global efficiency.  Meanwhile significant copyright infringement settlements with Limewire, XM Satellite Radio and Grooveshark among others, have returned millions of dollars to members, and ensured that their rights are protected all over the world.
Charles' career in the independent music sector goes back a long way, with more than 20 years experience, including his long-term position as CEO of Shock Records, Australia's largest independent music company, as well as positions on the Boards of ARIA, AIR and WIN.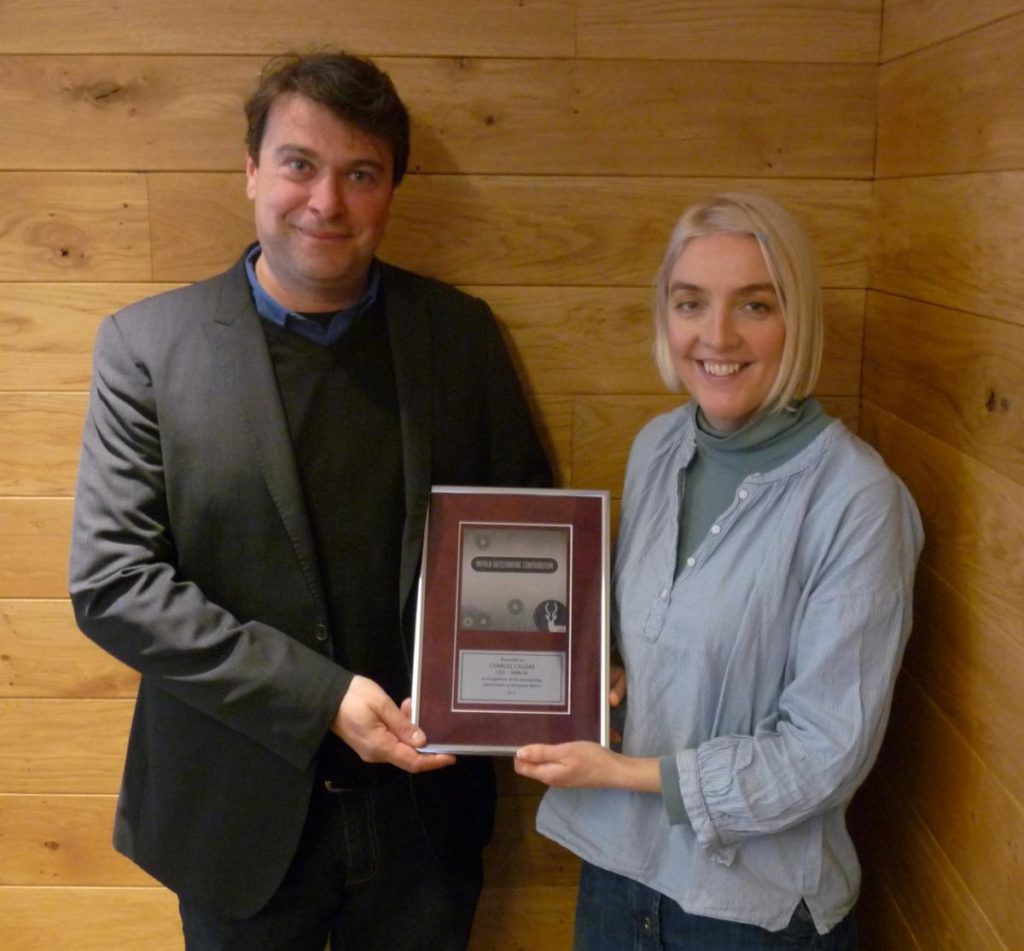 On receiving the Award, Charles Caldas declared: "I care very deeply about the work that we do at Merlin, and am truly honoured that the leaders of our sector, whom I admire and respect immensely, have chosen to recognise that work in this way".
Helen Smith, Executive Chair of IMPALA commented: "Before 2008, it was all too common for digital services to consider independent music as something of an afterthought. Not any more. Charles' tireless work with MERLIN has put our sector firmly on the digital map and helped ensure that the enormous value of our members' repertoire is recognised by those in the technology sector and wider music industry. Five years on, and for independent labels and independent artists it is difficult to imagine a world without MERLIN".  
The Outstanding Contribution Award is one of two new annual awards launched by IMPALA in 2011, to showcase European independent music and those who drive it. It aims to give recognition to the people and the initiatives that have promoted the interests of independent music in Europe. Last year's winners were Beggars' founder Martin Mills and the Label Love initiative.
About IMPALA
IMPALA was established in April 2000 to represent independent music companies. 99% of Europe's music companies are SMEs. Known as the "independents", they are world leaders in terms of innovation and discovering new music and artists – they produce more than 80% of all new releases. SME's also produce 80% of Europe's jobs. IMPALA has its own award schemes to help promote cultural diversity and new talent and highlight the artistic contribution of independent music. IMPALA award winning artists include Efterklang, Adele, Manu Chao, Radiohead, Agnes Obel, Caro Emerald and Sigur Ros while The xx won the latest  IMPALA European Independent Album of the Year award. www.impalamusic.org
About MERLIN
Recently voted #5 in Fast Company's list of most influential Music companies for 2012 Merlin is the global rights agency representing the world's most important independent music companies. The organisation acts to ensure its members have effective access to new and emerging revenue streams and that their rights are appropriately valued and protected. 
These members comprise over 14,000 independent record labels and distributors, representing some of the world's most important independent artists, including:
The xx, The National, Vampire Weekend (Beggars Group)

Tom Waits, Bad Religion, Wilco (Epitaph Records)

Nick Cave and the Bad Seeds (Kobalt)

Arcade Fire, She & Him (Merge)

DJ Khaled, Jim Jones (E1)

Editors, Agnes Obel, (PIAS)

Animal Collective, Arctic Monkeys (Domino)

Prodigy, Marilyn Manson (Cooking Vinyl)

DJ Antoine, Armin van Buuren (Kontor)

Chuck Prophet, Josh Rouse (Yep Roc Records)

Kid Koala, Amon Tobin (Ninja Tune)

Bob Sinclar (Tommy Boy)

Grizzly Bear, Boards of Canada, (Warp Records)

Ani Difranco (Righteous Babe)

Sharon van Etten, Bon Iver (Secretly Canadian)

Hercules and Love Affair, Space Cadets (K7)

Dan Zanes, Sonny Landreth (Virtual Label)
Merlin's members command around a 10% share of the global and US music market. Since commencing operations in May 2008, Merlin has struck deals with a wide variety of digital services including Spotify, YouTube, Google Music, Rdio and Deezer and reached a number of copyright infringement settlements on behalf of its members with, amongst others, Limewire, XM Satellite Radio and Grooveshark.
A list of Merlin's board members and further information on Merlin is available at www.merlinnetwork.org/board/