Brussels, 6th November 2014
The latest IMPALA Sales Awards announcement is the biggest ever, with no less than 142 registrations or awards upgrades from independent artists including Arctic Monkeys (UK), Moderat (Germany), M83 (France), Racoon (Netherlands), Tarja (Finland), Fazil Say (Turkey), Melanie De Biasio (Belgium) and Civil War (Sweden)…
Many nominees to the IMPALA European Album of the Year Award show strong sales results, with Arctic Monkeys reaching double platinum level for their "AM" album, French electronic music act M83 and Danish singer/songwriter Agnes Obel both landing a Diamond award with "Hurry Up, We're Dreaming" and "Aventine" respectively, and U.S. indie rock band The National pocketing a double gold award for "Trouble Will Find Me". There are also Gold awards for French singer Benjamin Biolay, British rock group Django Django gold and Dutch outfit Racoon gold, while Italian artists Elisa and Raphael Gualazzi both receive a Silver award for their latest album
Also of note are European album of the Year award winners The xx registering a Platinum award for "Coexist", while Armada co-founder Armin van Buuren completed his already impressive range of awards, started in February with an IMPALA Outstanding Contribution to independent music award, with a Double Silver award for "Intense" as well as a Platinum award for his single "This Is What It Feels Like".
Classical music artists and international artists signed to European independent record labels also enjoy their fair share of success with classical artists such as Laurent Korcia, Anne Gastinel, Sandrine Piau (all France) and Rinaldo Alessandrini (Italy) all collecting various awards while Andrea Bocelli (Italy) pockets two silver awards, Ali Farka Toure (Mali) registers no less than five awards, and Brazilian singer-songwriter Seu Jorge and U.S. acts Bad Religion and Warpaint also pick up silver awards.
IMPALA Executive Chair Helen Smith commented: "It is great to see so many current and former nominees for the IMPALA Album of The Year Award in this list, as it shows that the very quality of these albums is also endorsed by music fans all over Europe."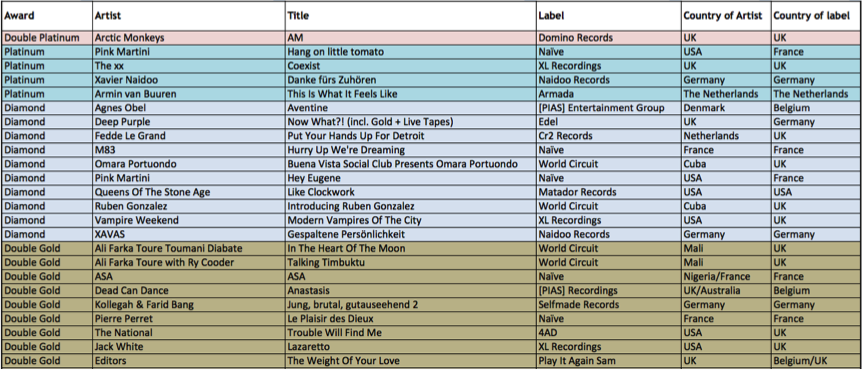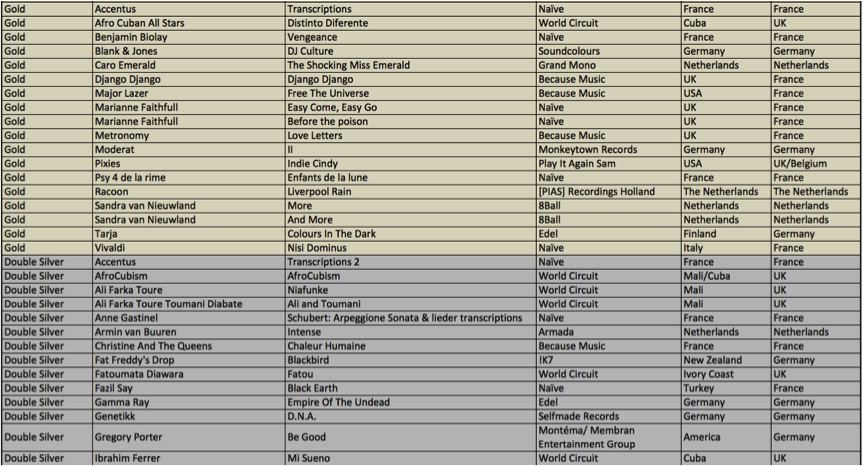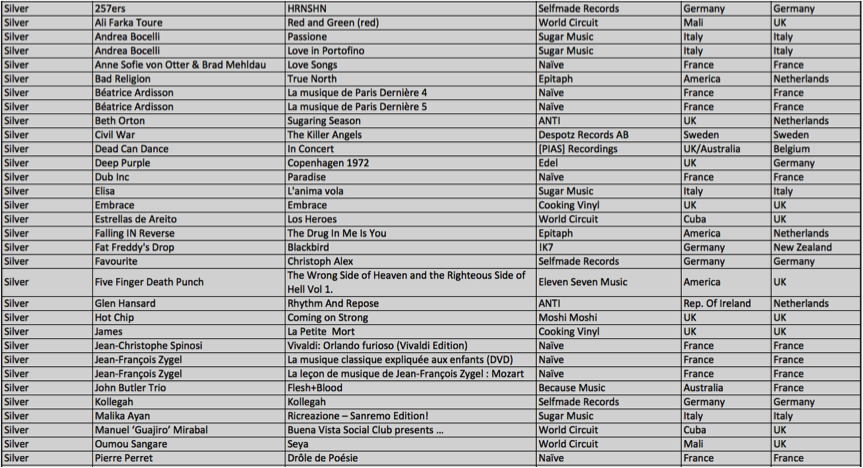 About IMPALA
IMPALA was established in April 2000 to represent independent music companies. 99% of Europe's music companies are SMEs. Known as the "independents", they are world leaders in terms of innovation and discovering new music and artists – they produce more than 80% of all new releases and account for 80% of the sector's jobs. IMPALA has its own award schemes to help promote cultural diversity and new talent and highlight the artistic contribution of independent music. IMPALA award winning artists include Guadalupe Plata who was voted winner of IMPALA's last album of the year award, The xx, Armin van Buuren, Caro Emerald, Adele, M83, Mogwai, Vitalic, Soap & Skin, Royksopp and Andrea Bocelli.
About the Awards
The IMPALA Sales Awards are the only pan-European awards devoted to independent artists. They are the first awards to recognise that success on a pan-European basis needs to be acknowledged on different levels. They celebrate the fact that achievement and success begins well before 1 million (the only pan-European sales level officially recognised before IMPALA launched its own scheme).
The IMPALA Sales Awards are an extra tool for independents and their artists to market themselves internationally. IMPALA's on-line certification system is available at www.impalamusic.org where framed awards can also be ordered.
The awards are part of IMPALA's wider strategy to create new opportunities to promote independent music, real entrepreneurship and cultural diversity, in the face of increasing concentration.
IMPALA also has two other awards: the European Independent Album of the Year Award and the Outstanding Contribution Award, which are announced annually.