Utrecht/Brussels, February 18th, 2014
Leading independent dance label Armada Music and its founder DJ Armin van Buuren honoured by IMPALA Outstanding Contribution Award
Producer/DJ Armin Van Buuren, along with the Dutch independent record label he co-founded, Armada Music, are the latest winners of independent label organisation IMPALA's Outstanding Contribution Award. They join prestigious recipients such as Martin Mills, Mario Pacheco and Charles Caldas. IMPALA's annual award recognises the exceptional efforts of an individual or organisation to promote and develop European independent music and the sector's diversity.
In 20 years as an industry leading DJ and producer, Armin van Buuren rapidly grew from local DJ to global stardom, developing his very own, successful brand of music. He co-founded Armada Music in 2003 with Maykel Piron and David Lewis. Armin himself has claimed multiple accolades, including no less than 5 No. 1 spots in DJ Magazine's Top 100 DJs fan poll and, more recently, a Grammy nomination and an IMPALA platinum Award for his hit single, "This Is What It Feels Like".
Armada has accumulated multiple hits and has developed many sub-labels. Among these are « Armind » and « A State of Trance », run directly by Armin van Buuren. The rich Armada roster includes household names such as Dash Berlin, Paul Oakenfold, W&W, Max Graham and Gosmic Gate. Armada Music has become a household name in the world of electronic dance music (EDM).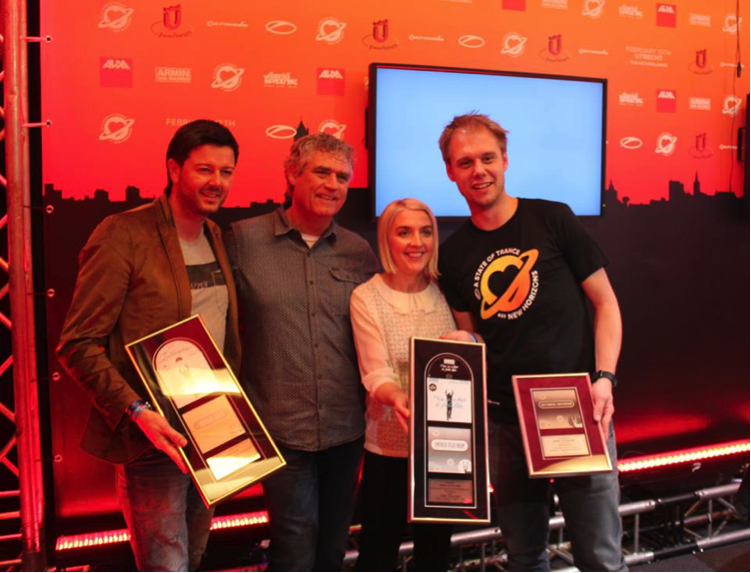 On receiving the Awards during his special radio show live from "A State of Trance" #650 in Utrecht, The Netherlands, van Buuren commented: 'What an honor to receive this award! 400,000 sales of 'This Is What It Feels Like' in Europe! It is truly amazing and I'm so proud of what we have achieved as an independent label in this genre over the past ten years. I believe that a healthy independent music scene in Europe will guarantee a constant flow of variety in musical culture.' 
Helen Smith, Executive Chair of IMPALA added: "This award underlines the exceptional achievements of Armada Music and Armin. Armada's essence as an independent record label: dynamic, creative, flexible and innovative, was recognised as outstanding.  This award is unique as the jury is made up of other independent label leaders across Europe."
Kees van Weijen, Chairman of IMPALA and President of STOMP said: "The IMPALA Outstanding Contribution Award presented to Armada Music and Armin van Buuren is in recognition of the way Armada as an independent dance label achieved the number 1 position in its field, and their vision in this fast growing genre worldwide." 
The Outstanding Contribution Award is one of two annual awards launched by IMPALA in 2011, to showcase European independent music and those who drive it. It aims to give recognition to the people and the initiatives that have promoted the interests of independent music in Europe.
About ARMADA MUSIC
Founded in 2003 by Armin van Buuren, Maykel Piron and David Lewis, Armada Music is a Dutch record label specialising in electronic dance music (EDM) releases. The name of the label is a combination of the first two letters of the names of its three founders. 
In its 10 years of existence, Armada Music has established itself as a worldwide EDM powerhouse, winning no less than four « Best Global Dance Label » titles, as awarded by the International Dance Music Awards. 
Armada Music has more than 25 different sub-labels, representing many different types of electronic music. Among these are « Armind » and « A State of Trance », run directly by Armin van Buuren. The rich Armada roster includes household names such as Chicane, Dash Berlin, Paul Oakenfold, Paul Van Dyk, Max Graham and York, who are all responsible for the A&R activities for their own labels within the Armada Music structure.
www.armadamusic.com 
About ARMIN VAN BUUREN
Armin van Buuren is a Dutch music producer and DJ, and one of the three co-founders of the Armada Music record label, based in the Netherlands. 
As an artist, he is well known for mostly playing progressive trance and uplifting trance. He has been ranked a record 5 times at the N°1 spot of DJ Magazine's Top 100 DJs fan poll (in 2007, 2008, 2009, 2010 and 2012). In 2013, his single "This Is What Feels Like" was nominated for a Grammy award, and went on to sell more than 1.2 million copies worldwide, and also won an IMPALA Platinum for sales in Europe alone. 
Since 2001, Armin van Buuren has hosted a weekly radio show called "A State of Trance" (ASOT) which has more than 20 million weekly listeners in 26 countries. This radio show propelled him to superstardom and garnered an intense following of trance fans around the world. The show is celebrated live each year in different locations around the globe with a line-up consisting of many trance artists. The latest sold-out edition, ASOT #650, took place in Utrecht on 15th February 2014.
His 2008 studio album, "Imagine" was the first ever dance music album to enter the Dutch charts straight at N°1.
www.arminvanbuuren.com 
About IMPALA
IMPALA was established in April 2000 to represent independent music companies. 99% of Europe's music companies are SMEs. Known as the "independents", they are world leaders in terms of innovation and discovering new music and artists – they produce more than 80% of all new releases. SME's also produce 80% of Europe's jobs. IMPALA has its own award schemes to help promote cultural diversity and new talent and highlight the artistic contribution of independent music. IMPALA award winning artists include The xx who was voted winner of IMPALA's last album of the year award, Armin van Buuren, Caro Emerald, Adele, M83, Mogwai, Vitalic, Soap & Skin, Royksopp and Andrea Bocelli.
www.impalamusic.org
About STOMP
STOMP – Stichting Onafhankelijke Muziek Producenten is the Dutch Association of Independent Record Labels. Launched in 2011 with Armada Music as one of its founding members, it represents all the key indies labels based in the Netherlands and aims to collectively conduct negotiations in the best possible conditions with all partners in the music sector.
http://www.stichtingomp.nl