Brussels, 27th February 2014
Following its successful launch three years ago, the IMPALA European Independent Album of the Year Award is back for its fourth edition.
This European Mercury-style award celebrates the musical talent and diversity of releases by independent European labels. It promotes exceptional artists and the independent sector alike.
Voting is now taking place on the 24-album shortlist to decide who will succeed "Coexist" by The xx. The best album will be selected by a jury of IMPALA Board members, with the winner announced next month.
The nominated albums are listed in alphabetical order by artist – name of the album (record label):
Agnes Obel – Aventine ([PIAS])

Alborosie – Sound The System (VP Records/Greensleeves)

Aino Venna – Marlene (Stupido Productions)

Armin van Buuren – Intense (Armada Music)

BirdPen – Global Lows (Green l.f.ant)

Boards of Canada – Tomorrow's Harvest (Warp)

Bye Alex – Szörpoholista (CLS Music)

Caro Emerald – The Shocking Miss Emerald (Grandmono/Dramatico)

Dubioza Kolektiv – Apsurdistan (Menart)

Elisa – L'Anima Vola (Sugar)

Guadalupe Plata – Guadalupe Plata (Everlasting/Popstock)

Iceage – You're Nothing (Escho/Matador)

Jelena Radan – Voyage (Menart)

John Grant – Pale Green Ghosts (Bella Union)

Junip – Junip (City Slang)

King Midas – Rosso (Fysisk Format)

MF/MB/ – Collosus (Adrian Recordings)

Mick Harvey – Four (Acts of Love) (Mute)

Milky Chance – Sadnecessary (Lichtdicht Records/[PIAS])

Nick Cave & The Bad Seeds – Push The Sky Away (Bad Seed Ltd)

Obliteration – Black Death Horizon (MIS)

Peixe:Avião – Peixe:Avião (PAD)

Sigur Rós – Kveikur (XL Recordings)

Woodkid – The Golden Age (Green United Music)
The shortlist includes six artists nominated previously: Agnes Obel, Caro Emerald, Dubioza Kolektiv, Iceage, Junip, Sigur Rós, as well as Armin van Buuren who just last week received the IMPALA Outstanding Contribution Award (more here). Aino Venna, Bye Alex and Woodkid are nominated for their first album.
To judge for yourself in advance of the big announcement, listen to the nominees here: full album playlist and short playlist.
Helen Smith, Executive Chair, IMPALA commented: "We expect this shortlist to attract a lot of interest as it is a very strong set of nominees. Just like the Mercury Music Prize, the winning album will be simply what the jury believes is the most exceptional album of the year."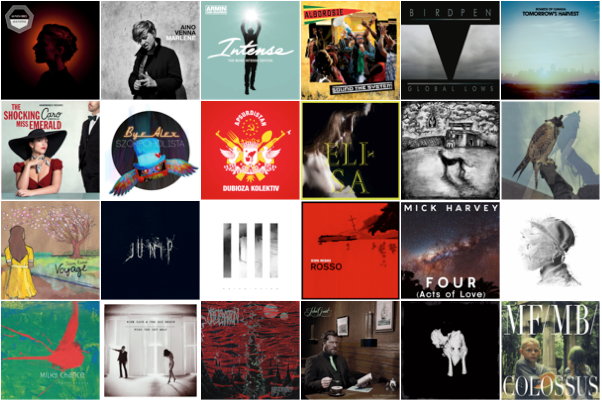 About the Independent Album of the Year Award
The "European Independent Album of The Year" award was launched in 2011, together with the annual "Outstanding Contribution to European Music" award, to mark the 10th anniversary of IMPALA.
This award showcases the breadth and diversity of independent talent across Europe. The winner is selected on the basis of completely open criteria from a shortlist compiling national and non-national album nominations from territories across Europe put forward for their musical, artistic or other exceptional quality.
Nominated albums were required to have been released on a European independent label between January and December 2013. Previous winners of the Award include Efterklang, Adele and The xx.
About IMPALA
IMPALA was established in April 2000 to represent independent music companies. 99% of Europe's music companies are SMEs. Known as the "independents", they are world leaders in terms of innovation and discovering new music and artists – they produce more than 80% of all new releases. SME's also produce 80% of Europe's jobs. IMPALA has its own award schemes to help promote cultural diversity and new talent and highlight the artistic contribution of independent music. IMPALA award winning artists include The xx, Caro Emerald, Adele, M83, Mogwai, Vitalic, Soap & Skin, Royksopp and Andrea Bocelli.