Promoting culture and cultural diversity runs through all of IMPALA's work. We advocate for a new industrial policy focusing on the unique strength and diversity of Europe's cultural and creative sectors. 
Creativity is a vital asset for Europe and its citizens. It is an essential driver of jobs and growth, as well as for cultural diversity, social well-being and Europe's soft power internationally. These strengths are key elements for building a strong, inclusive, sustainable and diverse Digital Single Market. 
The covid crisis has underlined that even more and the cultural sectors are now recognised as one of 14 priorities for European recovery.
Cultural and creative sectors account for 4,4% of EU GDP and 12 million full-time jobs, most of which are local and cannot be relocated. They are economically resilient in times of crisis, and have a high percentage of youth employment, with 19.1% aged under 30. Copyright-intensive industries also offer a wage premium of 69%. 
Imagine what more they could achieve with a new approach in Europe?
Individuals and smaller actors are the drivers of these sectors' success. In music for example, small actors account for 80% of the sector's jobs, 90% of the added value generated, as well as 80% of investment in new creative works. Natural early adopters, they lead the development of the online market, with copyright as a liberator for the artists they work with. 
Europe's creativity will never run out. It is essential to build on this local, and not just sustainable, but abundant resource. Creation must be at the heart of Europe's development – for both creators and citizens. Making Europe the intellectual property capital of the world with a healthy distortion-free licensing environment is key. 
European music market is not defined by the EU and includes the whole of the UK. A real sector-specific approach when it comes to music, is important to allow the European music market to operate without being constrained by the membership or non-membership to the EU.

Europe needs ambition and inspiration – a new industrial policy to build on the unique strength and diversity of Europe's cultural and creative sectors.
Below are examples of measures that an industrial policy would involve. IMPALA's Chair, Francesca Trainini also did a 20MinutesWith podcast on the topic, you can listen to it here.
Please also see our specific recommendations regarding crisis and recovery measures on IMPALA's covid site. 
Developing an EU industrial policy for culture
MAKING SURE EUROPE'S CULTURAL SECTORS SURVIVE THE PANDEMIC CRISIS
IMPALA has comprehensive recommendations aimed at recovery.
Targeted support and coordination take on renewed importance as restrictions gradually lift and we can hopefully find some optimism about tackling the spread of Covid-19. Sectors such as music will be last to come out of the crisis and will feel the direct impact on revenues for years, even without a potential third wave.
With European markets bracing for serious decline, extension of crisis relief is vital, including graduated support for 5 years and 6% for culture in all national and EU recovery and other budgets. 
On top, IMPALA is seeking clear reporting to assess whether support ends up where it should, as well as a more co-ordinated response across Europe on health measures and mobility. 
Bolstering rights is a key focus of IMPALA's recommendations. Implementing the EU copyright directive quickly and sticking to the text of Article 17 is a top priority, to prevent more gaps appearing. Addressing the recent EU court decision on performance monies and third countries is also important, to stop value being transferred away from European performers and producers. Another decision chipping away at broadcast rights needs assessing too. 
Finally, IMPALA looks to offline and online media to boost music and diversity and asks decision makers to remove barriers to innovation and support regeneration. VAT on concerts, live streams and record store sales are specific issues here.
With European music accounting for 2 million jobs and €81.9bn GVA, IMPALA's recommendations are an investment in Europe's recovery. 
See more below and 
here
 for IMPALA's recommendations in full.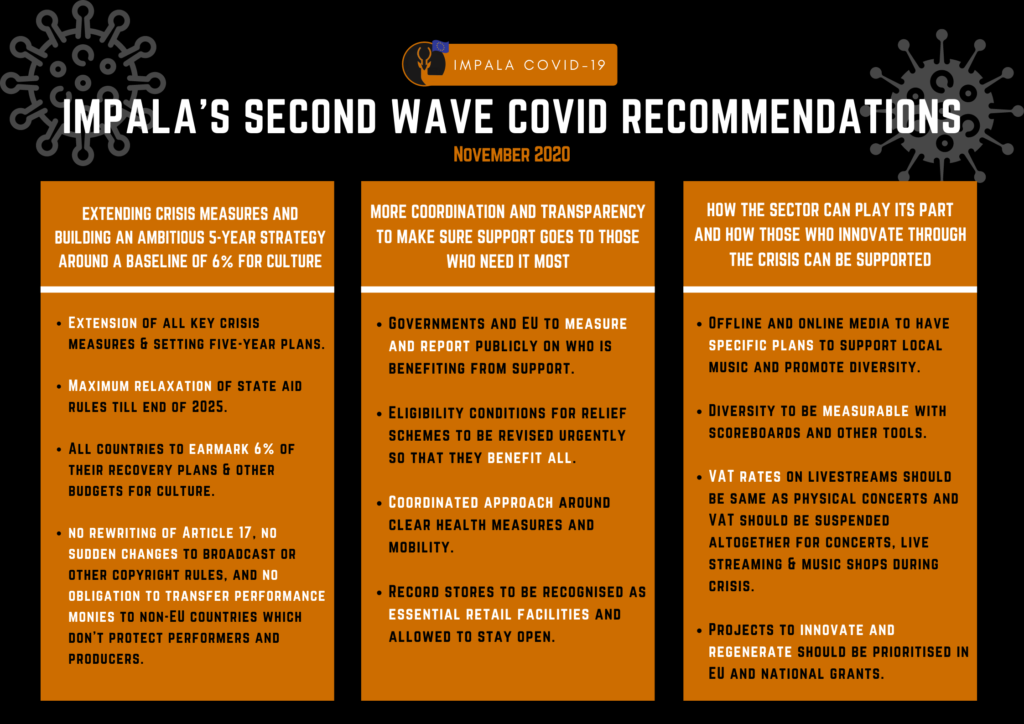 IMPROVING PLURALISM AND DIVERSITY ONLINE AS WELL AS OFFLINE 
Citizens' appetite for culture and diversity is huge. We need to respond to this through concrete, sustainable measures to increase pluralism and diversity in traditional and online media, as well as in the supply of creative works.
IMPALA has a ten-step plan to reform streaming. Seeing music services as partners, IMPALA's aim is to make streaming fairer and provide a dynamic, compelling and responsible future for artists, labels and for fans.
The EU could broker a charter for stakeholders to promote diversity and mobility, two vital components of Europe's Digital Single Market. Let's measure performance through specific scoreboards. 
We should use the power and uniqueness of Europe's culture to reconnect with citizens and pursue a strategy along the lines of the EU's New Narrative for Europe.
Sector initiatives that establish pathways for transition are often trailblazed by innovative actors and the independent sector is a good example. 
Recognising the climate emergency and the need for innovation, IMPALA has developed a sustainability programme with first music sector carbon goals for 2026 (net zero) and 2030 (net positive). This is also the first initiative that includes the supply chain, with the aim to create the first carbon calculator for recorded music. It is through actors and initiatives like this that the European Green Deal will move towards its goal of making Europe the first climate-neutral continent.
It is important to support and promote sector innovation.